With more than 1000 islands, islets and reefs, National Parks, UNESCO heritage sites, centuries of history and culture, world-class food and wine, crystalline waters and a Mediterranean climate, the question is: Why wouldn`t you come sailing in Croatia?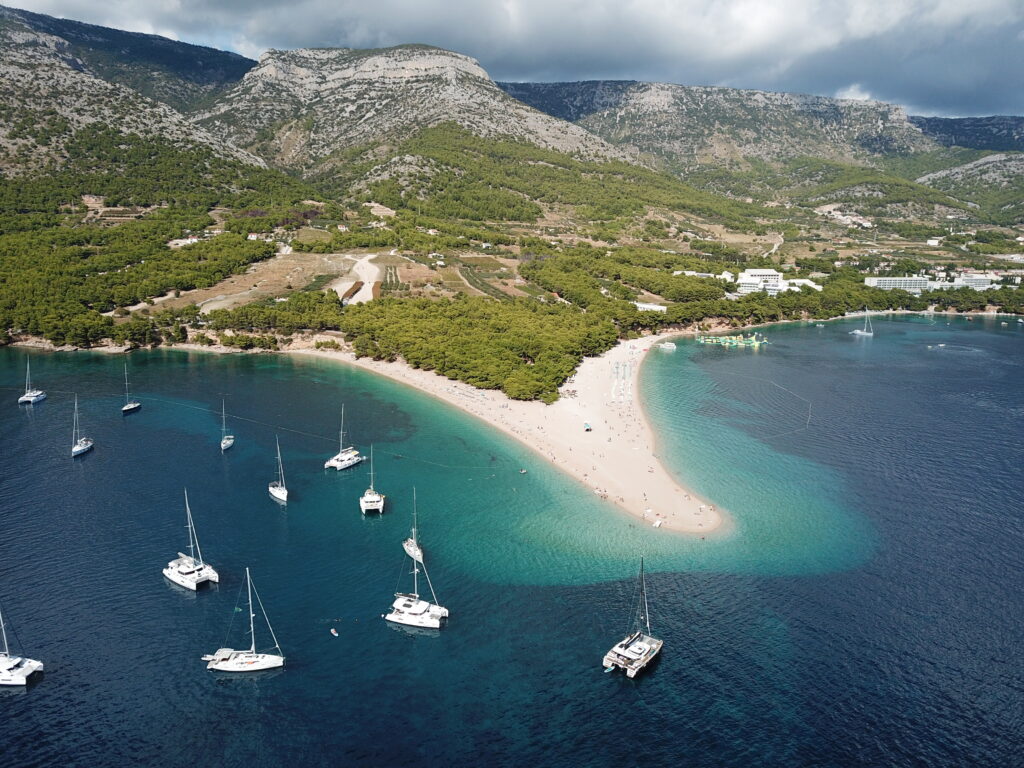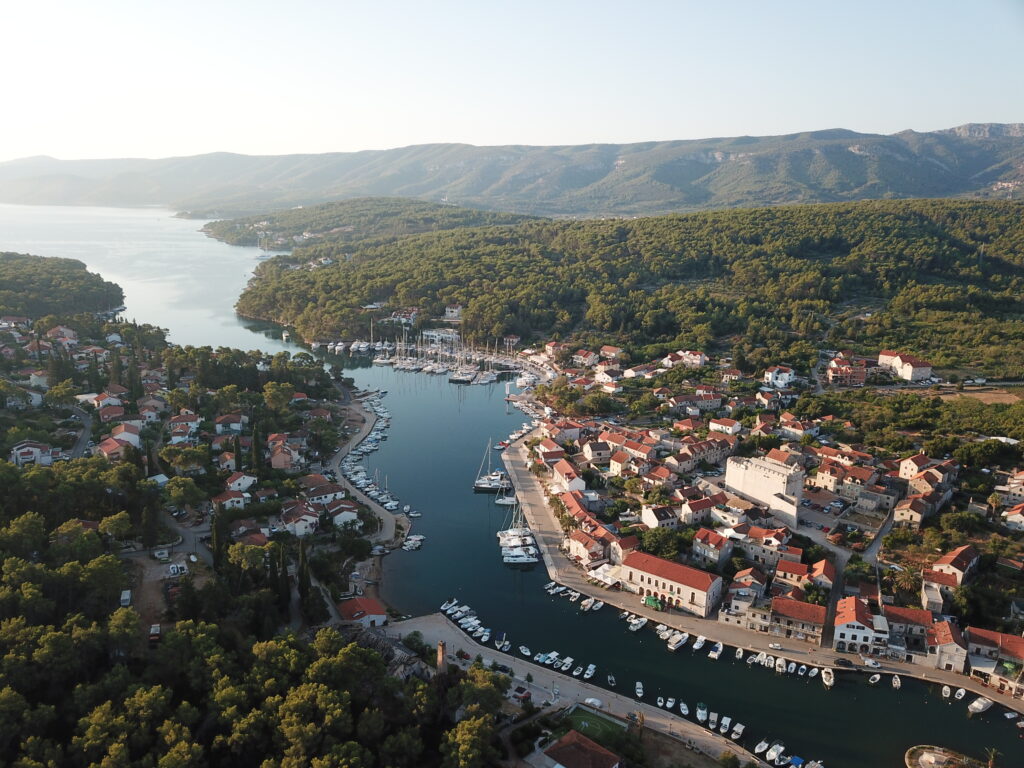 Sailing regions in Croatia
South Dalmatia (Dubrovnik, elaphiti islands: Koločep, Lopud, Šipan, Ston, island Mljet, island Korčula and island Lastovo)
Central Dalmatia (Split, Trogir, island Drvenik, island Šolta, island Brač, island Hvar, island Šćedro, island Vis, island Biševo, island Jabuka, island St Andrija
North Dalmatia (Rogoznica, Primošten, Šibenik, Skradin, island Zlarin, island Kaprije, island Žirje, island Zmajan, island Prvić, island Tijat, Vodice, Murter, island Kornati, island Pašman, island Ugljan, Long island, Pirovac, Zadar etc…)
Croatian coast (island Krk, island Rab, island Cres, island Lošinj, island Unije, island Susak, island Silba, island Premuda, island Olib, island Molat etc..)
Istria (Pula, Rovinj, Poreč, Umag, island N.P. Brijuni)
According to Croatian law, at least one person on the vessel must possess valid nautical and VHF licenses. What does it mean? If you don't want to hire a skipper, in order to charter a boat, you must have valid licenses, in addition to your sailing experience.
Navigational and VHF licenses in Croatia are issued by Port Authorities, and if your license is issued in a foreign country, please check whether it is valid for Croatian territorial waters. To obtain the license, one must take classes and pass an exam that includes theoretical and practical elements.
If you want the bareboat charter, you must send us the copies of your licenses in advance, to be able to confirm the booking. In case there is something wrong with your documents, we will inform you on time.
You must have the originals with you on board all the time, so don't forget to take them. Croatian laws are very strict in regards to these regulations and it is impossible to charter a boat without all the necessary documents.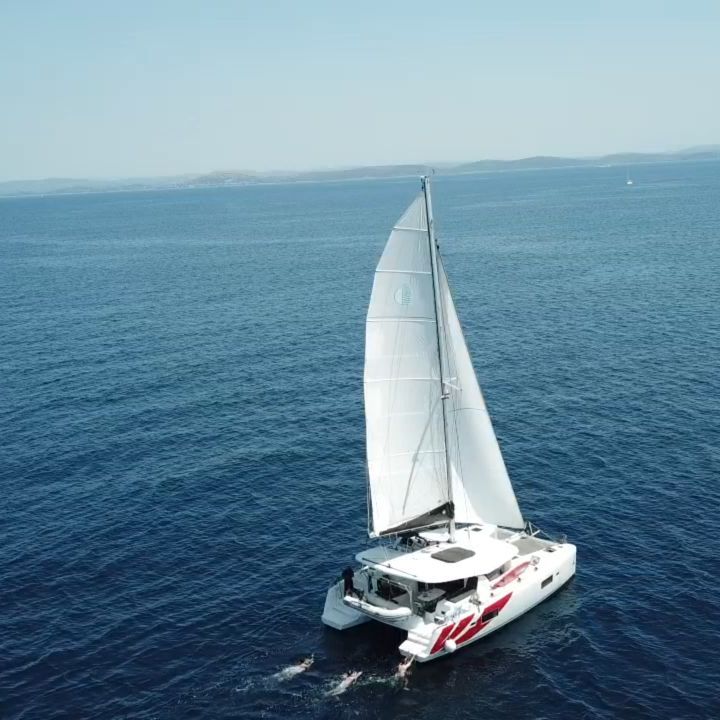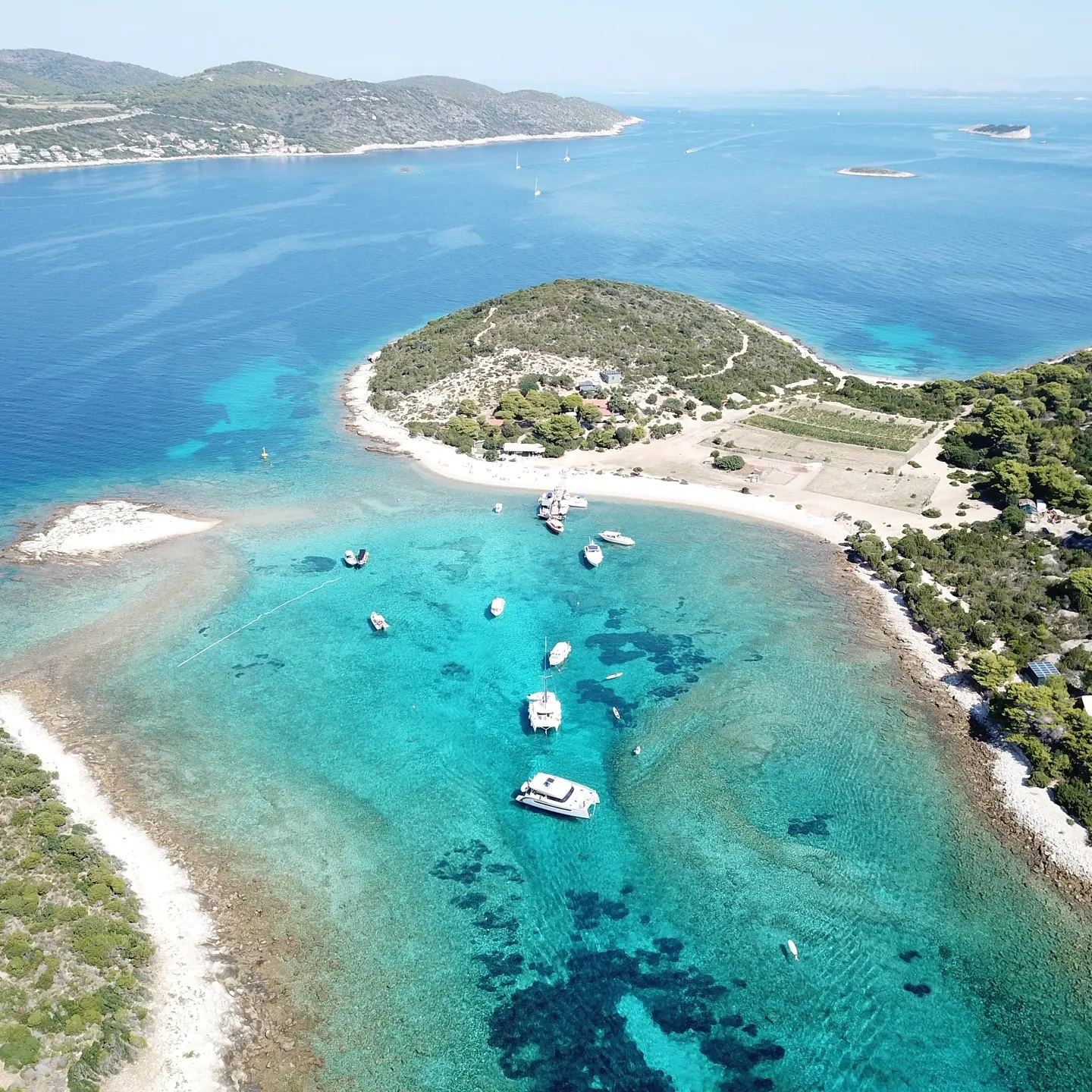 Weather on the Adriatic sea
Winds of the Adriatic:
Bura is North-East wind, it`s a strong, dry and cold, mossy (suddenly changing direction and speed) and turbulent wind from the land, which mainly blows along the eastern coast of the Adriatic Sea during the cold season of the year. The name of the wind is of Slavic origin, its meaning is "whirlwind, evil wind"
Jugo is South-East wind, wind is characteristic of the Adriatic Sea in a southeast to southerly direction, which blows mostly evenly at a speed of 6 to 11 m/s (from 22 to 40 km/h), but sometimes reaches a hurricane force of 30 m/s (110 km /h). It does not occur suddenly and blows at a uniform speed, it is strongest on the open sea, where it creates large waves that can endanger and even disable ship traffic. They blow for several days, more often in the cold than in the warm part of the year, as part of the area of low air pressure (cyclone), which is located in the western Mediterranean or on the Adriatic Sea. In summer it usually lasts no longer than 3 days, and in winter it can last up to 10 days, and sometimes with minor interruptions up to 3 weeks.
Maestral is a constant moist summer wind of moderate strength (most often from 5 to 8 m/s – from 18 to 30 km/h), which blows from the northwest and west direction on the Croatian coast of the Adriatic. It accompanies good weather and relieves the summer heat. In summer, it usually starts blowing between 8 and 9 a.m., at its strongest around 2 p.m., and stops around 6 p.m. or at sunset at the latest. Rarely, with extremely strong mistrals, the cessation can last until late at night. The wind is favorable for sailing. Local names for mistral are: maistral, maištral, magistral, maistro, mistral, maestral,
Nevera means a storm, that is, very bad weather for being at sea. Infidelity can mean a sudden storm at sea (a storm with lightning and thunder or a storm with thunder and rain), a short-term bad weather caused by intense heat. The term "unbelief" refers to the hurricane-like force of the wind, which can sink ships, uproot trees, and tear the roofs of houses.
Sudden storm surges (smaller and shorter storm surges) that can raise uncomfortably high waves for a short time are also dangerous for vessels. There can also be gusts of wind with rain.
Marinas in Istria and Kvarner
| | |
| --- | --- |
| City | Marina |
|  Pula | Tehnomont Veruda |
| Pula | ACI Pula |
| Pula | Bunarina |
| Rovinj | ACI Rovinj |
| Medulin | Medulin |
| Pomer | ACI Pomer |
| Novigrad | Nautica Novigrad |
| Opatija | Admiral |
| Rijeka | City port |
| Novi Vinodolski | Novi |
| Punat (Krk) | Punat |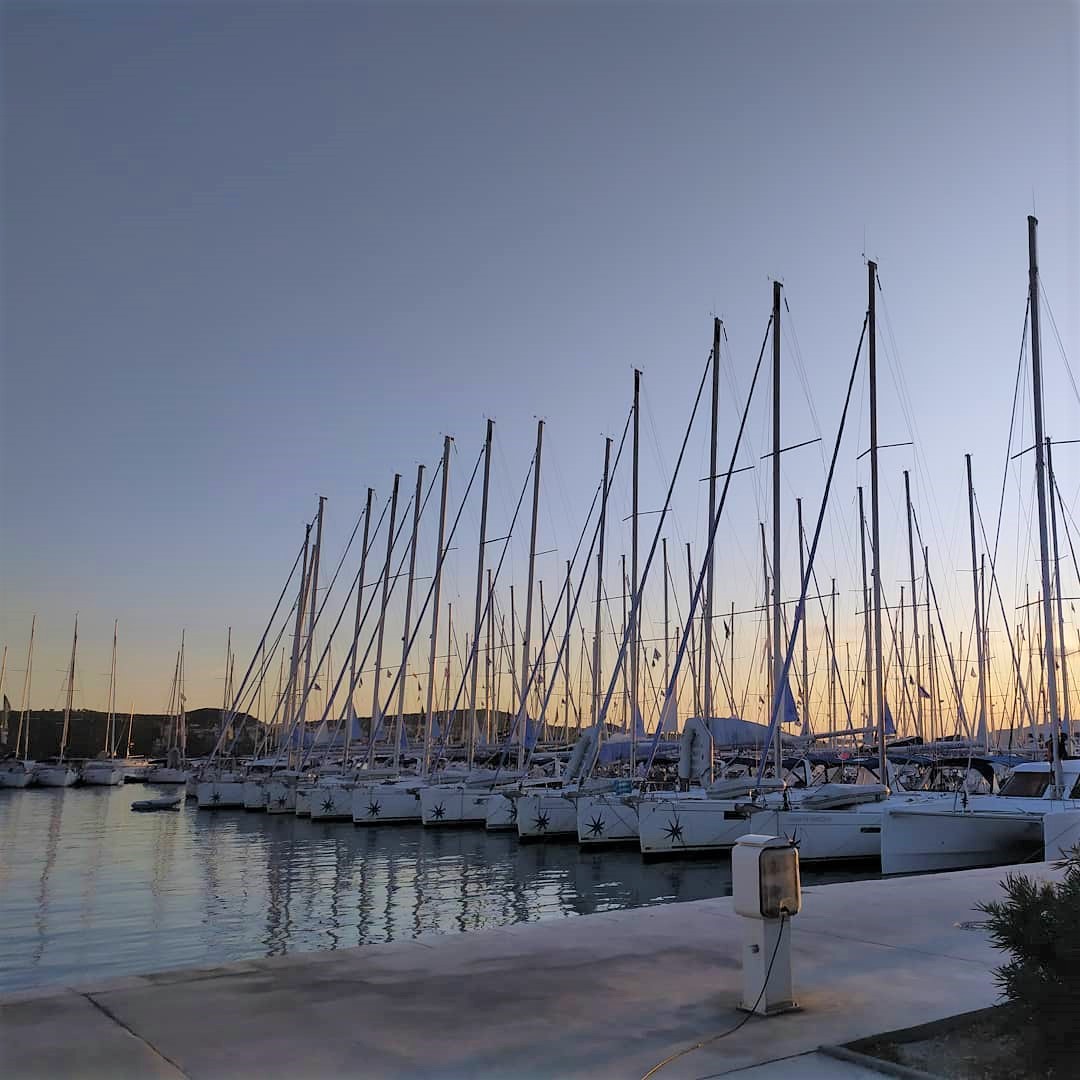 Marinas in North Dalmatia
| | |
| --- | --- |
| City | Marina |
| Zadar | Zadar |
| Zadar | D-Marin Borik |
| Šibenik | Mandalina |
| Sukošan | D-Marin Dalmacija |
| Biograd | Kornati |
| Biograd | Šangulin |
| Murter | ACI Jezera |
| Murter | Betina |
| Murter | Hramina |
| Pirovac | Pirovac |
| Primošten | Kremik |
| Rogoznica | Frapa |
| Skradin | ACI Skradin |
| Tribunj | D-Marin Tribunj |
| Vodice | ACI Vodice |
| Zaton Šibenski | Zaton |
Marinas in Central Dalmatia
| | |
| --- | --- |
| City | Marina |
| Split | ACI Split |
| Split | Nava |
| Split | Zenta |
| Split | Špinut |
| Split | City port |
| Trogir | ACI Trogir |
| Trogir | SCT Trogir |
| Seget Donji | Baotić |
| Marina | Agana |
| Kaštel Gomilica | Kaštela |
| Podstrana | Lav |
| Baška voda | Ramova Krvavica |
| Šolta | Rogač |
Marinas in South Dalmatia
| | |
| --- | --- |
| City | Marina |
| Dubrovnik | ACI Dubrovnik |
| Dubrovnik | City port |
| Slano | ACI slano |
| Ploče | City port |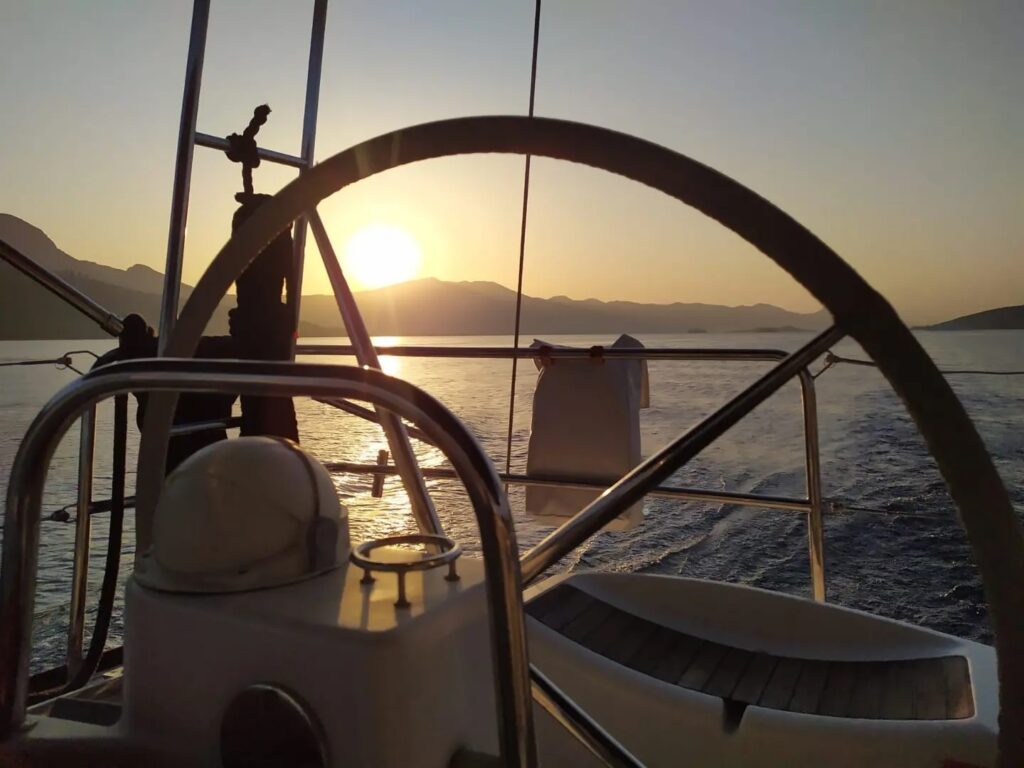 INA (the Croatian oil and gas group INA-industrija nafte d.d.) operates the biggest gas station network in Croatia. You will also be able to stumble upon some floating Flash gas station, found in five places in Croatia. These gas stations are constructed on a floating platform rather than on the coast. The waiting times are generally short at the filling station. On Fridays, though, things are different near the large charter marinas. Long queues are then usual with correspondingly long waiting times.
Find interactive map with all stations on the coast.
"Safety First" is the slogan that adorns the deck of most ships around the world.
Safety is mainly a matter of prevention! Assuming that we have all the necessary knowledge and skills to manage the ship, let's determine what all the essential preparatory actions are to ensure safe navigation.
Before leaving the safe port, you must:
thoroughly check the weather forecast for the next 2 days
familiarize yourself with the specifics of the planned navigation route
provide sufficient amounts of food and water
have first aid
check the condition of the engine (oil, coolant, belt, impeller, bilge pump) and fill the fuel tanks
check and test your safety equipment and VHF
recommendation: use a light self-inflating belt – due to its practical design, it can be worn during the entire voyage
prepare the deck for safe movement with harnesses and the inside of the ship that everything is secured (closed)
prepare for emergency procedures
tune your VHF to channel 16, prepare SAR numbers and data from your boat
Once you've followed these tips, you're ready to set sail
NO PREFIX IS REQUIRED FOR THESE NUMBERS
112 – Public Emergency Centre 192 – Police
193 – Fire Department
194 – Ambulance
195 – Sea Search and Rescue VHF channel 16
18981 – General information
11888 – Information of local and long-distance phone numbers
11802 – Information of international phone numbers