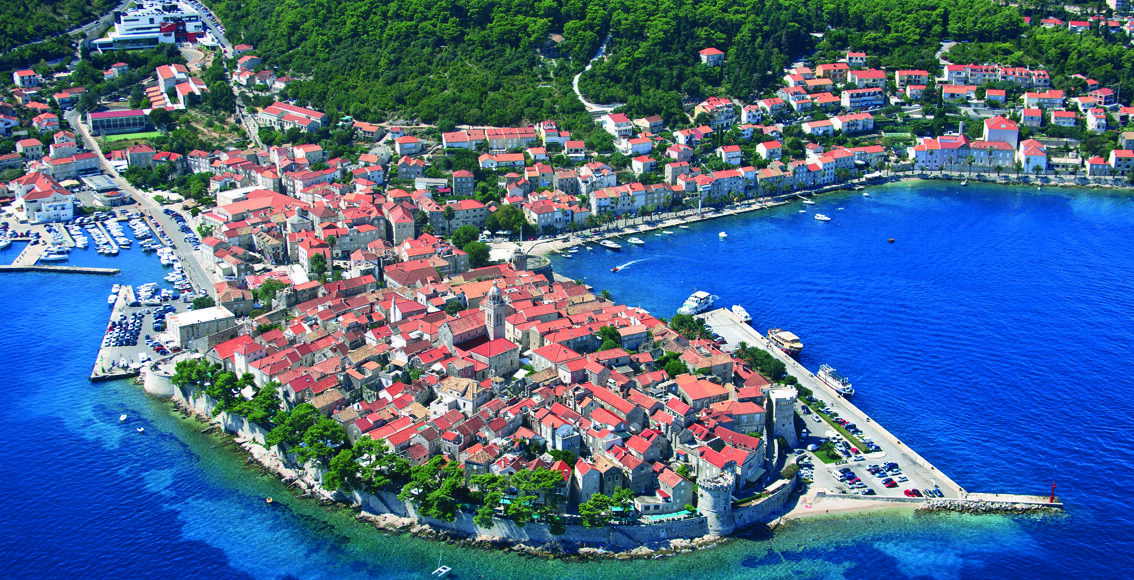 KORČULA – The sorceress Kirk and Odysseus' sailors
Korčula (Old German: Kurzel, Italian: Curzola, Greek: Κόρκυρα Μέλαινα, Korkyra Melaina, Latin: Corcyra Nigra – Black Korčula) is an island in the Adriatic Sea, a colony of the Greek island of Corfu.
The island belongs to the Dubrovnik-Neretva County, has an area of 279.03 km2 (length 46.8 km, width 5.3-7.8 km) and 16,000 inhabitants.
The highest hills are Klupca with 568 m and Kom with 508 m.[2] It is the sixth largest Adriatic island.
The three largest towns on Korčula are the capital Korčula, Blato in the interior, and Vela Luka in the west of the island. The following separate places are Lumbarda, Smokvica, Potirna, Račišće, Pupnat.
There are many disputes, but with the exception of some other cities (Venice, Istanbul), it is believed that Marco Polo was born on Korčula in 1254. Namely, the street and part of the city (according to existing records that still exist today) in which the so-called Marko Polo's house, correspond to the area that belonged to the Polo family from the earliest days.
In addition to MOREŠKA dance, the Korčula Baroque Festival is an established international music festival. The festival features world and domestic ensembles and soloists such as The Academy of Ancient Music (Great Britain), Le Parlament de Musique (France), Currende and Erik Van Nevel (Belgium), La Venexiana (Italy), Red Priest (Great Britain) and the Croatian Baroque Ensemble (Croatia).