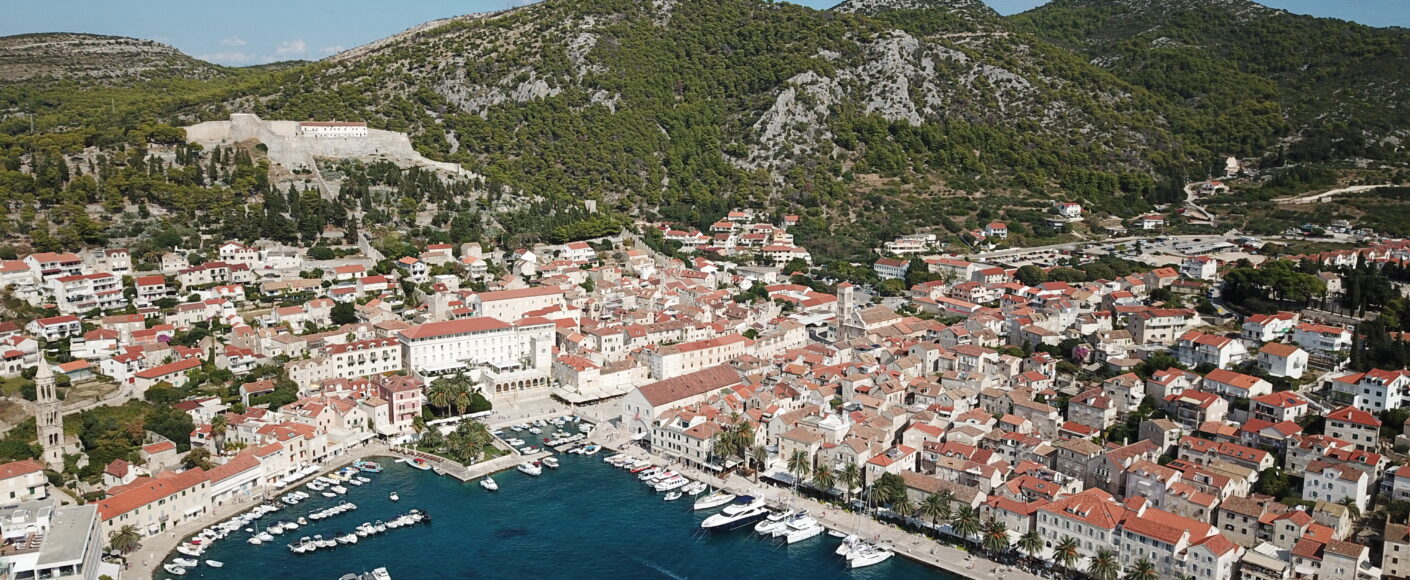 HVAR – Homer's and Odysseus' Cyclops
Hvar (Chakavian Hvor, or For, Greek: Φάρος, Faros – lighthouse) is an island in the immediate vicinity, to the north of it is the island of Brač, and to the south of it are Šćedro (from which it is separated by the Šćedor Channel), Vis (more towards southwest), Paklin Islands, Korčula and the Pelješac peninsula.
It is 72 km long and 10.5 km wide at its widest part. The total length of its coastline is 254.2 km. Its surface area is 299.7 km2, which makes it the fourth Croatian island by area. The highest peak is St. Nikola, on which there is a chapel, 628 m high.
The road connecting the town of Hvar on the west side and Sućuraj on the east side of the island is 84 km long.
Hvar is divided into four municipalities: Hvar Town, Stari Grad, Jelsa and Sućuraj.
Due to the large number of sunny days, it is often called Sunny Hvar.
There are well-known finds from Markova and Grapčev caves, where the oldest representation of a ship in Europe was found on a fragment of a ceramic vase, and the Purkin kuk site with megaliths.
Greece, Parma, the Papal State and the Kingdom of Naples then opened consulates in the town of Hvar.
In 1858, the first meteorological station in Croatia was opened on Hvar.
In 1868, the first tourist society ("Hygienic Society") was founded.
This year marks 150 years of tourism on Hvar, which is the most visited Croatian island in the summer and winter months.
It was declared the best island in Europe according to Condé Nast Traveler magazine in 2021.
Hvar has been visited by many famous people such as: Emperor Franz Joseph I, Clint Eastwood, Michael Douglas, Catherine Zeta-Jones, John Malkovich, Brad Pitt, Jodie Foster, Eva Longoria, Gwyneth Paltrow, Steven Spielberg, George Clooney, Jack Nicholson , Kevin Spacey, Sean Connery, Daniel Craig, Pierce Brosnan, Andre Agassi, Jennifer Capriati, Gabriela Sabatini, David Beckham, Bernie Ecclestone, Eddie Jordan, Michael Schumacher, Bill Gates, Roman Abramovich, Beyonce, Jay-Z, Paris Hilton, Charlize Theron et al.